Pastor
Michele Rae Rizoli
Michele, the "shepherd" of our little flock, grew up in Brazil, where s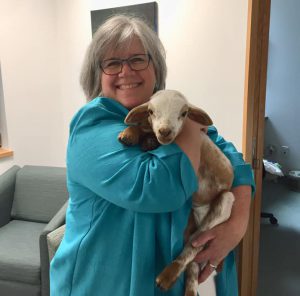 he was shaped by the culture and her parents' work as missionaries with the Mennonite Church. She has been back in Canada for many years, working and raising two sons in Toronto. A member of TUMC since 1993, she has served in various roles, including an extended period on the preaching team. This affirmation from the church led her into formal ministry. Michele earned her Master of Divinity from Emmanuel College at the Toronto School of Theology and has worked with young adults through the Ecumenical Chaplaincy at the University of Toronto. She previously worked in editing, translation and administration, though she holds a bachelor's degree in music. Michele loves travel, word games, movies, and good conversation, especially when it comes to talking about the joys and struggles of a life of faith, telling stories or jokes. She believes firmly in the importance of working for peace and nurturing inter-generational, inter-cultural and inter-religious compassion.
You may e-mail her as Michele.
Ministry Team for Youth and Children

Audrey Wichert, Trent Voth & Cedric Martin
are the dynamic trio that bring their combined energies, gifts, wisdom, faith and humour to the important work of nurturing our kids through Christian Education, Venture Club (pre-teens), GERMS (junior youth) and TUMY (senior youth). They're assisted in this ministry by carefully vetted volunteers from the congregation to ensure a safe, fun, supportive and faith-building experience for children and teens.
***
Office Administrator
Mike DeHaan

Mike is a member of the Danforth Mennonite Church and a big supporter of two projects TUMC is also involved in: the St. Clair O'Connor Community and of the Toronto Mennonite Festival (MCC Relief Sale at Black Creek Pioneer Village). He is a jack of many trades who keeps things orderly in the TUMC office: the friendly voice when you call; the creator of bulletins; shepherd of building usage; keeper of documents and details; the answer-man when you have a question; and the guy who can help you with all the little things, like getting on the list for emailed announcements, setting up a mail folder in the lobby, or printing out a nametag.
Here's a description of all the stuff our office administrator does. Whew!
Mike had programmed mainframe computers and worked in Quality Assurance before becoming self-employed. He began this part-time position in 2013.
You may e-mail him as Mike.