Where the money goes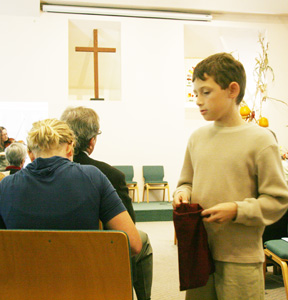 The best motivation for giving is simple: gratitude. We are encouraged to give back a portion of what God has blessed us with. This may be through Sunday offerings, automatic banking, or designated giving for special purposes. The TUMC congregation, with direction and support from the church board, sets priorities for how money is spent.
On Sunday morning, offerings of loose change, collected in cloth bags, go to projects chosen by the Sunday School children. Recent projects have included Sisters for Sisters,  a program that provides shelter, education and love to  at-risk girls in Bangladesh, and aid to Syrian refugees. For March and April, the offering supports TUMC's bursary fund for children attending summer camp at Silver Lake or Hidden Acres camp.
Offerings placed in the plates are used for our Spending Plan, the name for our approach to finances. We begin by estimating the financial resources the church will receive over the year, then divide that total toward three main purposes:
Providing for a place of worship and community (facilities, materials for worship and Sunday School, etc.).
Providing for those who serve the church (salaries, allowances, and benefits for staff).
Providing for the wider community. Some examples: