Welcome to TUMC, a Christian community in the Mennonite-Anabaptist "peace church" tradition. We aspire to be a family of faith  that welcomes people with diverse backgrounds and stories, worshipping together and supporting one another, while following Christ's example in working for peace and justice in our urban context.
There are many gifts, but the same Spirit
There are many works, but the same God
And the Spirit gives each as it chooses
Praise the Lord, Praise God.
Now one has the gift of wisdom,
another a calling to speak.
One the ability to comfort,
another the calling to teach.
A body has many members, yet all work in unity
The church is the body of Christ,
the arms, ears and eyes, hands and feet.
Not all are called to be prophets,
and not all are called to preach.
But  all should aim for the best gifts
and love is the greatest of these.
(I Co 12, adapted by Patricia Shelly)
---
This Sunday
TUMC warmly welcomes all to join us every Sunday with Christian Education beginning at 10 a.m. and worship at 11 a.m.  If you're a visitor or new to the city and looking for a church home, please come and check us out.
---
Lenten Guided Prayer
Join us, on your own or as part of an intentional group, in this meaningful way to observe this six-week time of preparation for Good Friday and Easter. A Lenten Guided Prayer resource is available Feb. 8 through April 3. The 2016 theme, Living Ink, encourages participants to see themselves as co-authors with God in an unfolding story through daily prayer and scripture readings. The "how-to" resource PDF is online via CommonWord.  Weekly readings are available without cost on the TUMC Community: Resources page of this site. (This requires log-in. Click the TUMC Community tab at the top of this page. If you haven't registered yet, you can do so there.)
---
News
1.  Continuing a long tradition that began in 1979, TUMC is proceeding with a refugee sponsorship, this time of family currently in Turkey. More than $20,000 has already come in designated for this sponsorship. More details to come!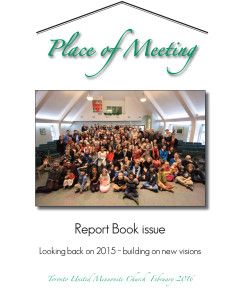 2.  TUMC's new and improved website has arrived.  Regular attenders will need to renew their log-on registration with a new, simpler system: Just click on the TUMC Community tab at the top of this page to get started.
3. TUMC's Annual Report Book has arrived in time for reading before this year's Annual General Meeting on Feb. 21. Pick up your copy at church, or read it in full colour online.  Log-in to the TUMC Community page for the link. (And if you don't know how to log-in, see No.2!)
4. The Mennonite/Anabaptist world lost a powerful advocate for peacemaking this week, with the death of Siegfried Bartel, a centenarian who served in the German army in World War II and became a convert to pacifism from a biblical perspective. Hear him tell part of that story here… Journey to Pacifism: Siegfried Bartel's Story